About Taylor Butane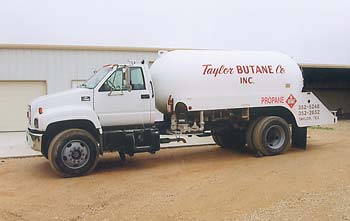 A lot of people may say that something runs in their family but the Kunze family business is the definition of that phrase.

Bill and Annie Mae Kunze established Taylor Butane Co., Inc. in 1960 and since then the propane business has crossed through three generations of the Kunze family and is still going today.

Donald Kunze, Bill and Annie Mae's son, took over the business in 1976 and operated it with his late wife Nancy until three of their four children took it over in 1996. Weekend family outings in the early seventies consisted of loading up in a bobtail with Donald, Nancy, Stephanie and Josh to deliver propane.

Stephanie Kunze Townsend, Donald's daughter, serves as office manager, much as her mother and grandmother did before her. Stephanie's brothers Josh and Grady work as delivery driver and serviceman.

Stephanie started early with the company, when as a child she would help her grandmother by adding up tickets and checks on an old punch-button adding machine.

Josh and Grady got started working for the family business during their summers when school was out. They began working full-time after they graduated in 1987 and 1988. Stephanie took over as office manager in 1990 after her mother passed away.

Long-term dedication applies to the other employees of Taylor Butane. Richard Jansky drives a delivery truck, Aaron Pasemann drives another delivery truck, and Jackie Kunze Krueger, Bill's daughter and Donald's sister, works in the office. There is a combined propane experience of 98 years.